code

packaging size

price per unit

box price per unit

Code & packaging

Price per piece

code

197012.0719

packaging size

200 l

price per unit

box price per unit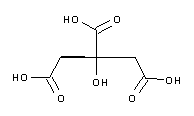 Density:

1.05 kg/l


Solubility:

Miscible with water


Physical Description:

liquid

Product Code:

197012


Product Name:

Citric Acid solution 15% w/v pharma grade


Quality Name:

pharma grade


Specifications:

Assay (Acidim.) w/v: 14.5 % - 15.5 %
Identity according to Pharmacopoeias:: passes test

Maximum limit of impurities
Appearance and colour: passes test
Darkened substances by H2SO4: passes test
Residue on ignition (as SO4): 0.05 %
Sulfate (SO4): 0.01 %
Residual solvents (Ph.Eur/USP): passes test
Oxalate (C2O4): 0.035 %
Heavy metals (as Pb): 0.001 %
This product has been manufactured with Citric Acid anhydrous which passes Ph. Eur., BP and USP specifications.

Hazard pictograms

Storage:

Room Temperature.


Signal Word:

Warning


GHS Symbols:

GHS07


H Phrases:

H319


P Phrases:

P264
P280
P305+P351+P338
P337+P313


Master Name:

Citric Acid 15%


EINECS:

201-069-1


CS:

29181400

Download TDS file for complete specifications