Microbiology Culture Media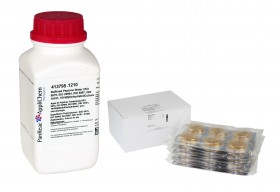 Microorganisms have a major impact in our world. Microbiology is the science that allows us to study these organisms, from major epidemics in the world to the most common infection. So it is of vital importance for the development and safe use of food for human beings and, in many cases, is the key to the industrial production of such foods. Also for the water we drink and we use for different purposes and for monitoring the quality of air we breathe.

The food industry relies on microbiology to assure the quality of what we eat and drink and also to facilitate the production of key food for mankind. The industry also regularly monitories pollution depending on the decision of this assistance sanitize facilities. Also the pharmaceutical industry makes sure to have their drugs free of contamination that are responsible for the development of necessary therapies to fight infections.
Microbiology is the science that allows us to study microorganisms
For water, food and drugs quality control as well as for the environmental quality of water and air culture media are traditionally used. In these, microbes of interest to us are isolated and they are identified in each case.
We offer a wide range of products for Quality Control in Drinking Water Laboratories, Pharma Industry, Food Industry and Environmental analysis too.

Our packaging comprises Dehydrated Culture Media (powder) and Ready-to-Use Media as Petri dishes, contact plates, filtration plates, dip slides, tubes, bottles and bags for dilutors.
Four good reasons to choose our Culture Media:
1.- Good Performance, Quality, Reliability
Our products are manufactured following a production system that guarantees maximum quality and stability of the products throughout its shelf life. To ensure this a number of strict processes and controls are implemented as:
Rigorous control of sterilization temperatures
Precision weighting of the ingredients of media
Homogeneity of lots due to strictly monitored manufacturing system
Excellent recovery of tested strains
Packing specially designed to maintain optimal moisture of the product and maintenance of the medium: pH color, moisture, etc...
Final production meets pre-established quality criteria, including physical, chemical and biological parameters such as appearance, pH, color, recovery rate, selectivity, differentiation and microbiological load.
We have as a rule the application of a comprehensive set of criteria adapted to closely monitor our production and our quality control processes, which include specifications for the most important parameters such as water quality, air, traceability of raw materials , Equipment, etc ...

2.- Extensive certificate of analysis, technical data sheets and monographies
We have a complete certificate of analysis for every batch which includes physic-chemical data and fertility tests with appropriate strains according to different standards and norms.
We have available from our website www.itwreagents.com updated technical data sheets and also monographies with complete information and pictures.

3.- Formulations and Certificates of Analysis according to ISO, Ph. Eur., USP
PanReac AppliChem manufactures its DCM and Ready-to-Use media according to ISO 9001:2015 and also following the requirements of a number of validated methods, standards and microbiological guidelines (ISO (11133:2014), Ph. Eur., USP, etc…).
We follow specific criteria for culture media described in different specialized literature (ISO standards, European guidelines, local regulations...).

4.- Technical support about technics, regulations, applications
We supply technical support in order to find the right media for each application. Industry, type of sample, detection limits and regulations are critical point that we have to bear in mind when we are choosing our media and protocols.
We provide protocols of main sectors as water, food, environmental and pharmaceutics.