These are reagents specially indicated for general analytical applications with guaranteed specifications according to Pharmacopeia (Ph. Eur. or USP).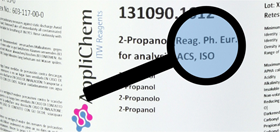 We use the "Reag. Ph. Eur" or "Reag. USP" denomination when the product is described in the Analytical Reagents Chapter of Pharmacopeias and when it fulfills the requirements indicated by them.

When we use the "Pharma Grade" denomination in the name of the product, this means that the product fulfils the requirements indicated in the monography for excipients of Pharmacopeias. For some products, the Reagents Chapter of Pharmacopeias indicates that the product must fulfil the specifications defined in the monography. The typical specifications included in the monography are: identity according to Pharmacopoeias, appearance of solution, residual solvents, volatile impurities and residual metals.

Our portfolio of Reagents for Analysis according to Pharmacopeia comprises acids, bases, solvents, salts, dyes, etc.